Connecting Mobile Marketers Around the World
Mobile Heroes initially began as a peer-driven platform to help educate marketers on best practices in app marketing. Mobile Heroes has since grown into a global community of over 3600 app marketers, monetization experts, and game developers across the ecosystem, connecting, learning and sharing their knowledge to advance the mobile marketing industry.
The Mobile Heroes Story
Growing Together
App marketing and monetization is a new and uncharted practice for many. With Mobile Heroes, app marketers and monetization experts from around the globe connect with their peers to ask questions, share insights and learn from one another.
Heroes in the News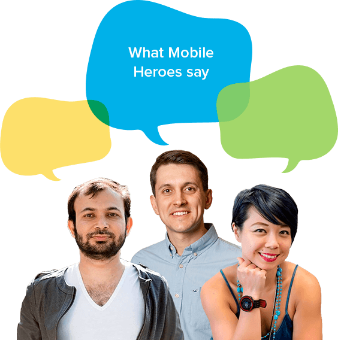 I am grateful for the amount of support and love I receive as a Mobile Hero. I wasn't expecting to feel such thrill from the program. It's a nice surprise.

My professional highlight of 2021 had to be being named a Liftoff Mobile Hero and the subsequent activity that came off the back including a Forbes feature.

I feel honored & lucky to be part of the Mobile Hero community. Thanks for creating a "mobile hero cape" for us and amplifying it. I am forever grateful.

Mobile Heroes is indeed a helpful resource and a notable gateway to best practices from top-notch marketers. Personally, I will definitely tune in for more in the series. Keep up the great work!
Nominate a Hero
Do you know a marketer pushing the boundaries of mobile app marketing?
Or are you ready to become a Mobile Hero yourself?
Who's next? We're searching